We spent one week in Turkey.  Overall if was a great visit with lots of history. I think it might be underrated as a top travel destination.  We started our Turkey trip in Istanbul.  After Istanbul, we flew to Ephesus and rented a car.  We then drove all the way to the South Western tip of Turkey to catch a ferry to Rhodes Greece.  The car trip took us three days and we stopped in Ephesus, Bodrum, Olu Deniz and finally  Marmaris for the ferry ride.   They had great roads to drive on with plenty of places to stop and everything was well signed.  We would recommend this trip to anyone wanting to get away and explore.
ISTANBUL: We stayed in a little hotel a block away from the Blue Mosque.  It was a great little place with a view of the water.  There was a great little coffee shop around the corner for us early risers (that would be me, not M).   There are actually two mosques there basically facing each other with a beautiful garden between them.  Everyone is very respectful and nice.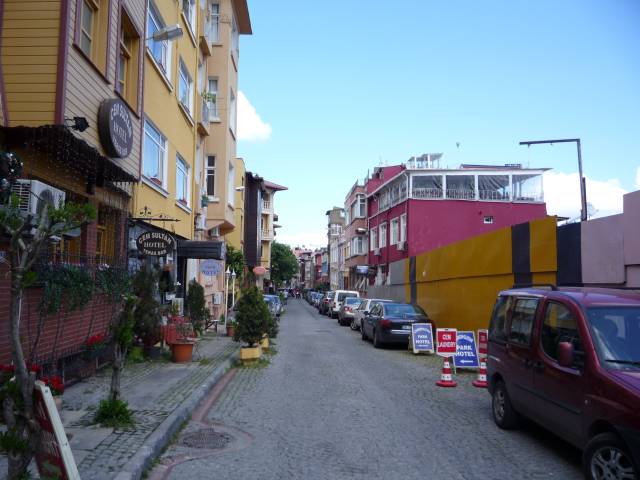 ---
EPHESUS: Prior to making our way to our hotel in Ephesus, we first stopped at the Temple of Artemis, one of the Seven Wonders of the World and the largest building of the ancient world.  Many ruins are there.  We also stopped at the Basilica of St. John.  The ruins at Ephesus contains the largest collection of Roman ruins in the eastern Mediterranean. Only an estimated 15% has been excavated.   This was a fantastic place to visit and walk around.  This was just as interesting, if not more so, then the ruins in Athens.  There were not a lot of people walking around and pictures were easy to get without too many people in the picture.  Overall Ephesus may have been one of the best ruins we have visited on our travels.
---
BODRUM: We had a great time in Ephesus, and a great stay at the Ephesus hotel on the water.  The hotel was all inclusive, which we didn't know, and we had great food and drink. Free drinks at the bar at night was a treat. Met some great people there. We were the only Americans – everyone else was from Great Britain or other parts of Europe.  We also had time for a massage before we got back on the road to head to Bodrum.   Bodrum is a coastal city and is the site of the famous Bodrum Castle. The castle was built by the Knights Hospitaller starting in 1402 as the Castle of St. Peter.
---
OLUDENIZ: From Bodrum we headed to Oludeniz.  This would be our last stay in Turkey before heading to Rhodes Greece.  Before getting to Oludeniz, we stopped in Fethiye to see the Lycian Tombs.  These are wonderfully carved tombs in the limestone rock.    Oludeniz is one of Turkey's beach destinations for laying out and renting paddle boats.  It is billed like a Cancun type destination, but it is much smaller and the sand is rather rocky.  However we did have a relaxing stay.  After that we headed to Marmaris the next morning to take the ferry to Rhodes Turkey.
Lycian Tombs: The ancient Lycian tombs and the current city of Fethiye
Another stop, on the way to Oludeniz, was to see the deserted museum of Kayaköy village.  Greek speaking Christians lived there until approximately 1923. The ghost town, now preserved as a museum village, consists of hundreds of rundown but still mostly intact Greek-style houses and churches which cover a small mountainside.
Olu Deniz, Turkey.   Not a bad place to relax and enjoy a paddle boat.  The water was fairly cold but we still jumped in.